And the winner of the tote is...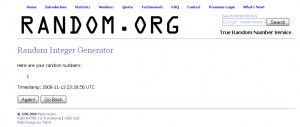 MICHELLE!!!!!  Yay!!!  Congratulations!
There will be another give-a-way next week after I come back from my crop weekend...so be sure to stop by!  I want to say a huge thank you to all of you who have stopped by in the last week.  Thank you to all who left comments.  I enjoyed reading what you had to say...thanks for sharing!  And thank you to Michelle and Jill for spreading the word around about my blog and give-a-way!
It's just been a day of hanging out.  Relaxing.  Was just playing checkers with Laney.  Ava doesn't want to do her homework so we are watching tv...hopefully we'll tackle homework after dinner...  I just want to be with my girls right now.  I guess it occured to me that I'm leaving tomorrow and I just want to enjoy them before I go.  They are loving it. ;D  Even Baxter...he joined us on the floor for checkers...of course his contribution was rolling his tennis ball into the game and knocking the pieces around.  Nice.  What a goof.  I did not get the camera.  I was too busy enjoying my kids.  So perhaps I'll just have to put this event in my Stories In Hand album! ;D  Which I need to get today's assignment done!