Do you ever see a kit in a store and say to yourself…"Nice, but I couldn't use it."  Or…"I don't have pics to go with that."  Or..."I wouldn't know what to scrap about with that kit."
Well…I'm not just a designer. I'm a scrapper. I shop. I hear the comments. I also know money is tight.
I'm here to introduce a concept to you that may help you with this.
Welcome to Bricolage!!
What is Bricolage?
bri·co·lage ˌbrēkōˈläZH,ˌbrikə-/ noun: bricolage; plural noun: bricolage; plural noun:bricolages (in art or literature) construction or creation from a diverse range of available things that happen to be on hand, something constructed or created from a diverse range of available things.
Let's break this down.
How would we do this in real life with a real scrapbook kit for a real layout??
Let me give you an example…
My kit Cat and Mouse. I called it that because it ended up going that direction.  Sort of. There are some cat AND some mouse elements in it.  Some cat and mouse word art.   And my team were able to come up with several nice layouts with this particular theme…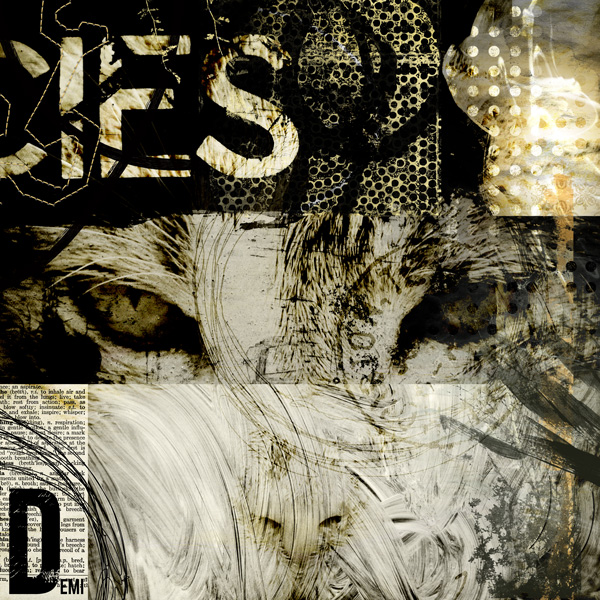 I'm pretty observant. I saw comments on FB to the effect of, "Well if I had a cat in my life…" or "If I had any pictures that would go with this kit…" or "If I had a need for this kit…" Hmmmm.
Let me show you something.
I like to scrap with my own products. I like to make sure what I put out there into the scrapping world is really useable! And so I was thinking about these comments I was reading and I wondered…"Can I make a 'non-cat-related-themed-layout' with a kit designed specifically with that in mind…or at least with it in the title of the kit?"
I set to work.
Frequently I make kits that have everything to do with my life and what I need to scrap.  However, even I make kits that don't have much to do with me.  For example this Cat & Mouse Kit.  If you took it at face value you might think, "I don't have a cat so therefore I couldn't use that kit."  I would like to dare you to think outside the box.  I would like you to believe that you can create whatever you want with the tools, or in this case kit, that you have right in front of you.
I myself do not have a cat. In fact, I couldn't be more opposite, I have 3 dogs.  That said, when I started working on this kit I realize there are millions of you out there that DO have cats.  So this kit could be completely appropriate for you.  But if you know me AT ALL you know that in all of my kits I try to put things in them that are non-thematical in nature to that kit.  Meaning: you could use them in any layout or with any other kit.  I just feel, as a fellow scrapbooker myself, it makes more sense to do that so you have more options when you purchase kits and you can use them over and over again.
You are welcome. ;D
I took a look at this kit and thought, as a user, could I make a layout with it that was anything BUT cat related??  But FURTHER than that, could I go so far as to make a layout that the direct opposite to it?  Could I make a DOG layout with it?
I took this layout (below) as my inspiration. Notice it has a cat in it! It even has a quote ABOUT cats!!! This layout was done by my very good friend and Creative Team member Anja aka Tinkelbel.
Using this layout for inspiration, I took a photo of my new puppy, Lucky, and began my creative process.  I used the following items from the kit Cat and Mouse:
Photo of Lucky: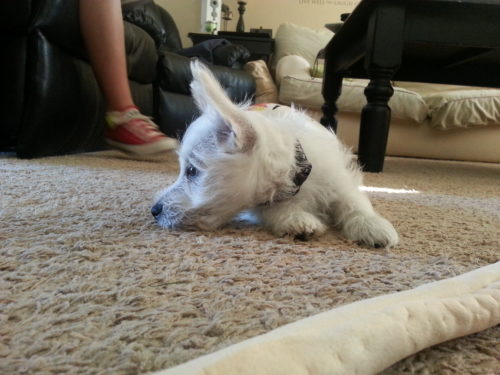 My process:
1.    Pull in the background.
2.    Open my photo and extract the dog from background.
3.    Place dog where I want on layout
4.    Begin filling in the dog with elements.
5.    Add word art.
6.    Finalize with light.
7.    Save for myself and for  uploading to the web but make sure you are saving your layout all along the way.  Too many times things have happened to me and I've lost all my progress.  So save often!
And this is the layout I created: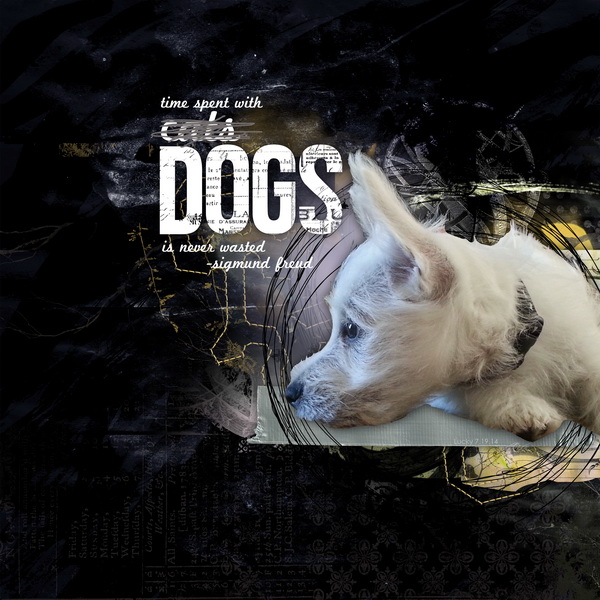 Just to be sure it was not a fluke I created another layout using this kit and made it completely not "cat OR mouse" (or even dog!!!) in theme.  Here is that layout:
I encourage and challenge you to take a second look at this kit Cat & Mouse and others like it that you may see in my store or have in your stash and don't just dismiss them at first glance.  Take another look and you might just find you have all the materials you need right in front of you (Bricolage!!!) to make the best "non-themed" layout ever!
Send me a link to what you have created.  I'd LOVE to see it!
-Jen