Ava lost another tooth last night.  We weren't here...we were on a date...miracle...and the girls adoptive grandma was watching them and said that Ava just kept messing with it and wouldn't leave it alone until it finally fell out.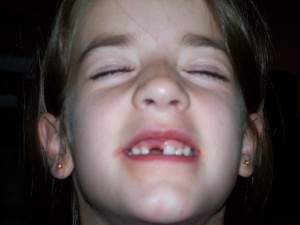 We took the girls to the Lego Store in the Colorado Mills Mall.  They got a charge out of it.  Looking for Christmas ideas mostly.  Mostly a gender store...in the way of boys...there were only a few Bellville items.  Ava loves building things and she loves the Star Wars and Indiana Jones sets.  We ended up getting to mini sets for Ava...typical...she likes something with a "plan" or an "agenda" and Laney got some bulk legos from the bins...the are both happy.
Also wanted to say that an old high school friend has reentered my life.  This is a very pleasant surprise and a nice gift from God.  I love it when the unexpected happens.
Have a great weekend!!!