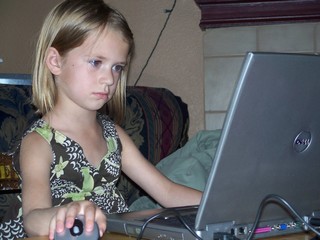 So we are living in the world of Webkinz. Did NOT see THAT happening. Every day both girlz wanna go in there and check on their pets, do the daily activities, play some games but MOST OF ALL buy STUFF!!!
I had a friend tell me that her kidz grandparents go online and play games for their kids and win them kinzcash so they can buy stuff…or the grandparents buy them stuff themselves and "voila" its there for them the next time they go in there…
OK…so I have to admit I thought that idea sounded a little excessive. Come on! Judge not!!!
I am just totally into the whole thing. I think their Webkinz are SO CUTE!!! And I find myself going in there every night earning them points so they can get a few "extra" things when they go shopping.
The other night I bought Ava an interactive tv in the shape of a cat. TOO CUTE! I put it in her room and turned it on and had one of her pets go watch it on the couch. So I'm sitting there watching this and all of a sudden I hear this little noise. And I'm like huh? A few seconds later I hear it again…and it's obviously coming from the Webkinz room…and it's not the tv. Well low and behold it's her little Webkinz laughing at the tv! OMG!!! I laughed and laughed. Again…too cute…