Been busy.  Doing this and that.  Mostly kid stuff.  Practices and games and festivities at school.  The kids are now on Thanksgiving Break.  And we are relaxing.  But there was so much going on leading up to it!  Phew!
Corey and I saw New Moon.  It rocked!  Then I saw it again last night with my friend Jill.  Even better the second time! ;D
After 35 years I finally did this...
Ava had a "mini play" in her class the other day.  They were focusing on Pilgrims and Columbus and things of that nature.  She was Samoset in her play.
Grandparents day was yesterday at school.  Every class performed something.  Here's Laney.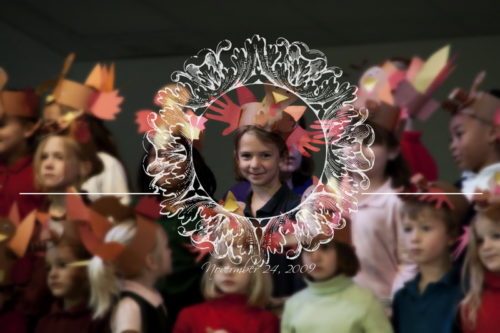 Where are you headed for Thanksgiving?
Wherever you end up I'm sure you are thinking what kind of photos am I going to take and what kind of layout am I going to do?  Take lots of photos I always say.  The delete key is your friend! ;D  You can never take too many photos and you can never get back the moments and retake the photos but you can always hit delete if you have take too many...GUILTY! ;D
So what should you take photos of???  EVERYTHING!!!!
The food.
Your plate of food.
The table.
The turkey in the oven.
YOURSELF!!!!!  Get someone to get at least one photo of you!
People cooking.
People lounging around.
Watching tv.
Playing the Wii! ;D
Decorating for Christmas...if you start to do that now.
Family members.
Things that don't seem so important.  They will later!
People praying or giving thanks.
Candles burning.
Wine bottles.
Get creative!!!
Then when you get done with your projects there are some great ideas for Thanksgiving layouts here.  I know they aren't digi.  But you can use the ideas to inspire.  I do! ;D
Lastly I've been working hard on some Christmas digi stuff.  I want to do a December Daily album but this year I really want to do it digitally.  So I've designed a kit for just that.  I cannot wait to share it with you!  It is all done I just have to put it in my shop!  More to come...;D