...other things...Wednesday brought the return of Corey and I having lunch together.  He has been having to go into the office and I have been sick so it was nice to return to our weekly tradition.  We decided to eat at Qdoba.  They have a new menu item called Craft 2.  It lets you mix and match some of their favorite menu items.  I chose a naked taco and a grilled quesadilla.  Best food I've had in awhile.  I say that because my tummy has been so upset for so long!  It is so hard for me to find things that don't make me feel ill.  This photo was taken with my phone.
We were at Burger King yesterday and the girls noticed they had crowns with Twilight New Moon pictures on them.  How exciting!  He he!  Even tho I would NEVER let them watch it in a million years until they are like at least 13 they still know what it is...cause their Mom is obsessed with it! ;D  So here they are in their crowns.  They said Bella was "watching" you! ;D  This photo was also taken with my phone.  Not too shabby for a camera phone. Oh.  Notice Laney has her front two teeth missing.  That is a recent event as well.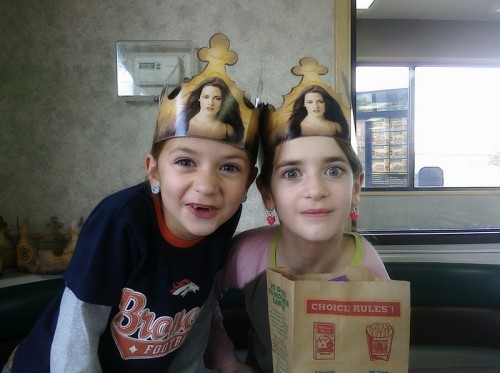 Does anyone know what THIS means....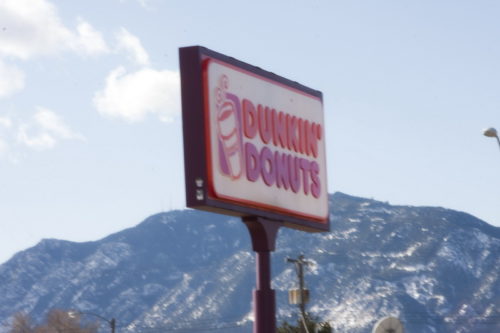 That is CORRECT we found Dunkin' Donuts in Colorado!  A little bit of a drive as they are all in Colorado Springs.  But better than none at all.  We had an errand to run in the Springs on Saturday so we made a pilgrimage to Dunkin' Donuts as well.  Grabbed a dozen donuts and some coffee beans.  We were all happy campers.  It's an east coast thing. ;D
We got snow.  Again.  Not much.  Just enough to annoy me.  We didn't get our traditional 70° weather in January.  Not even our usual one day.  It has been cold.  It feels too much like Maine for my taste.  Peh.  Here are the girls shoveling the driveway.  Can anyone tell me what is different about this photo???