Color is so important.  From the color of your blog to the color of the rooms in your house to the clothes that you wear to your favorite colors.  Colors are all around us and they are important in design and in scrapbooking!
Sometimes color or matching colors, finding complimentary colors and such can be very elusive.  Sometimes you can be drawn to certain colors and not really know why.  Sometimes we can put a layout together and it just works and other times there is just something going on that doesn't seem quite right.  A lot of this can be due to color.
I've gone to numerous crops and had lots of other scrappers ask me questions about colors.  What papers go with which other ones.  Do I pick colors that go with my photos or no?  What are complimentary colors?  It is very confusing!  I have a knack for putting colors together.  This could just be something that I was born with, because I'm an artist or because I went to art school.  If  you don't have it, it does not mean that you either can't learn or that you can't find resources out there to help you!!!!
The general rule of thumb is to use one dominant color and then one or two accent colors in your layouts.  Enough to keep it interesting but not too many to make it confusing to the eye.  The rule of threes...or odd numbers.  It's something I learned in art classes.  It's the same general rule as using three focal points in your layouts to form a triangle.  The eye goes from one point to the next in the layout without falling off the page and getting distracted or lost.  Here's one of my layouts with lines highlighting what I mean about the rule of threes and the triangle drawing your eye around the page: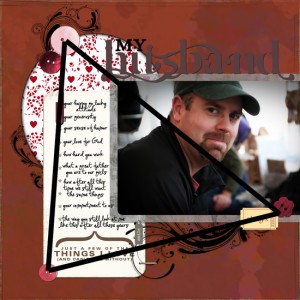 One basic tool that we can use in our work of scrapbooking layouts is the age-old color wheel.  If you don't have one kicking around get one!  You can pick them up in your local craft or art store.  You can find them online by doing just a general search.  I found a great one on Two Peas with an excellent explanation of colors.  You can get to it by clicking here.
The designer does a very good job of explaining complimentary, monochromatic, triadic and other color combinations.  I highly recommend reading it!!
I've shared this site with you before and I'll share it again.  Big Huge Labs has a palette generator designed for uploading photos and having color palettes generated based on the colors in the particular photo you upload.  These palette colors can then be downloaded to your computer and used in Photoshop.  If you need help downloading these palettes see this post for help.  If you are at a loss as to where to start with colors with a certain photo...or you feel like designing something of your own, this is a great resource that I've been using a lot lately!  Here's an example of what it looks like when you download a photo and the palette it gives you with that photo...
Another great resource to use for playing around with color is Idee Multicolor Search labs.  You can get to it by clicking here.  I was feeling in the mood for Valentine colors and this is what I generated last night...
Just a couple other ideas for inspiration:  I go to websites like Restoration Hardware, Pottery Barn, Pier 1, Old Navy, The Gap and the like for color inspiration.  Look at the catalogs that come to you in the mail!  These are great places to find examples of color coordination.  Open a visualize.us account and store your inspiring photos there...save some hard drive space!
I just did a general Google search for 'color combinations' and came up with some excellent sites.  Also something else I do...go to Home Depot or Lowe's or even Walmart and grab a few of the free paint color swatches in the paint section and bring them home.  These are also excellent color resources.  Don't forget Kuler either!!!
Experiment with color!  It is fun!  Get the creative juices flowing!  And if you feel like sharing...by all means! ;D