How do you change a photo from the one on the left to the one on the right?
It is a technique called selective recoloring.  It is not very hard to do.  ;D
1.  Open your photo in PS and separate the layer from the background by right clicking on the background layer.
2.  Duplicate the layer.
3.  Create new fill or adjustment layer to create a black and white layer.  Right click on the new layer and merge down.  You will have two layers now.  One color photo and one duplicate black and white photo.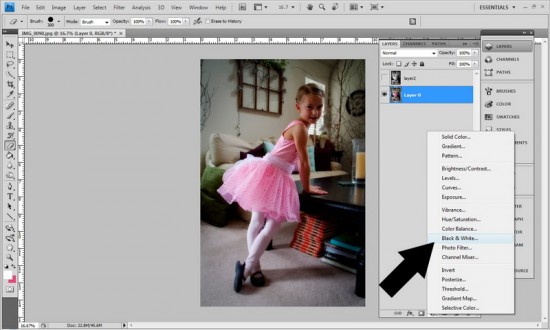 4.  Make sure your black and white layer stays above the color layer photo.  I also like to rename my layers.  It just keeps things in order.  It is a good habit to get into especially when you are working on projects with lots of layers.  (This one doesn't happen to have a lot of layers but like I said it is a good habit to get into.)
5.  Next, select the eraser in your tool bar (1).
6.  Select the size of brush you wish to use to erase (2).  Depending on the area I'm working in will depend on the size of the brush.  Remember you can quickly change the size of your brush while you are working by using the [ ] keys on your keyboard (pc users).  This comes in very handy when working in tight spots and then going back out to larger areas when erasing color.
7.  When erasing make sure you have the black and white layer selected (3)!!
8.  When finished your photo should look like this.  Save.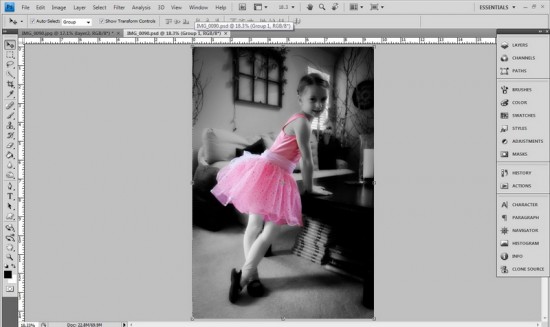 And here is the layout I did with the photo...
Katie Pertiet 4x6 frame
Lynn Grievenson Elizabeth Kit (butterfly)
Lynn Grievenson French Summer (postal stamp, ribbon)
Ali Edwards The Story Word Art
paper, year stamp, clock stamp, defining word stamp JMDesigns