I'm still doing the Project 365.  How are you all doing with it?  I must admit...not this week but the week before I wasn't so good about taking a photo everyday.  HOWEVER...I didn't want that to get in my way of continuing on.  I didn't want it to discourage me because, "oh no I'm doing it wrong I might as well give up!"  So one week was an "off week"...was that what real life was about...YES!  So onward and upward I go.  This week I took more photos and so we shall see what the next week will bring.
I decided to do these both digital.  It was the easiest for me at the moment...easy...get it done...I'll be happy and I won't fall behind! ;D  The first lo I used one of my Project 365 homemade templates.  You can download that template for free if you go to this post.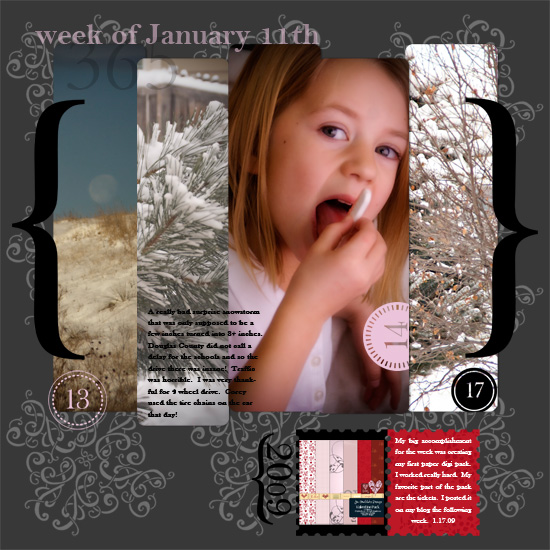 Jen Maddocks 365 Template 3
Paper Jen Maddocks Designs Black Ornate, Red from Valentine pack
Ali Edwards 31 Days Circle Accents
Journaling Font Baskerville Old Face
And then I just felt like doing something different for this week's lo...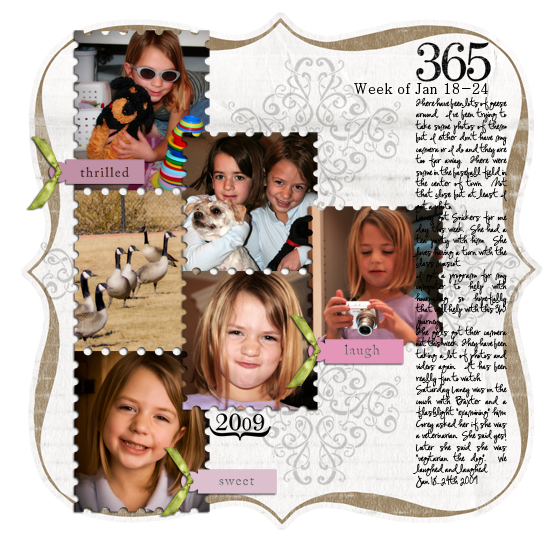 Katie Pertiet Bracketed Die-Cut Paper
Holly McCaig Jingle Bells green ribbon
Jesse Edwards Little Tags Brushes + Stamps
Katie Pertiet Barely There Brushes + Stamps Alpha + Numerical
Fonts: Susie's Hand, Adobe Myungjo Std
Jen Maddocks Years brushes
So if you happened to have gotten behind don't give up.  It is still very early in the game.  Still January!!!!  If you haven't started...again...it's still January!  If you need some encouragement...here's some...you rock!!! ;D  And if you have something to share...by all means do!!!