March came in like a lamb but seems to be going out like a lion!  We had a terrific snowstorm here yesterday and got about 18 inches here at the house.  Can't believe a week ago it was 80°!!!  Colorado weather is so crazy! ;D  It will be in the 50's this weekend so hopefully it will all melt away but I thought I heard on the news we are going to have another storm on Monday.  Sigh.  Good thing THIS week we were on Spring Break.  Didn't have to go anywhere in the bad weather!
Corey and the kids went out to shovel the driveway this morning...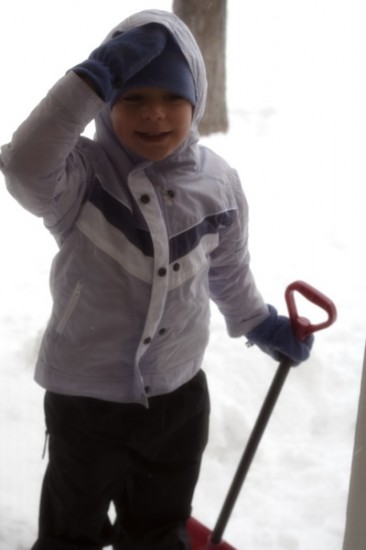 Laney gets the most rosy cheeks when she goes out into the cold.  And it was cold!  14°!!!  I know that as a kid this happened to me.  She was so cute when she came in all shivering.
While I was downloading these photos Ava came over to take a look.  She noticed that Laney was in focus and the background was blurry and said as much!  So I started telling her that was a specific setting on my camera that made it do that.  She was very interested!