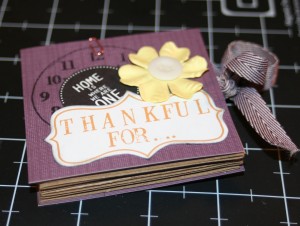 I was thinking of my friend Jeni who doesn't scrapbook and of the holidays coming up and it getting busy and also making handmade gifts...so I think this encompasses all three.
Here's a mini album...very easy to make...very fast...easily mass producible...easy for those who don't really scrapbook but want to look like they do...Jeni...but also great for us that do...something fun...a brag book...a gift or as I'm choosing to do...What I'm Thankful For...as it's Thanksgiving time and I'm in that mode.
Start with a 12 x 12 sheet of paper.  Draw dividing lines 3" x 3" so you should have a total of 16 boxes on your paper like so...
Cut the paper along the line and stop after cutting three blocks...stop short of cutting it into a strip.  Rotate the paper and start again...
When you are all done cutting your paper should look like this...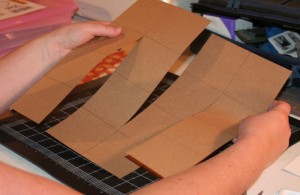 Start at one end of one corner of the paper and fold the paper along the lines accordion style.  When you get to the end of the row fold the square over onto the next row and start again.  A bone folder really helps to get the paper folded down and pressed nicely.  This will help later when gluing pages together.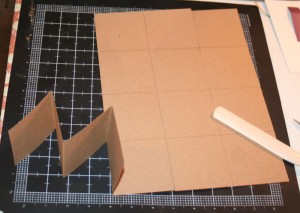 When you get all done folding your paper will look like this...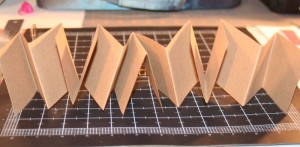 To make the book neat and sturdy and more like a "book" you are going to want to glue some of the pages together.  If you fold it all up and act like it's a book you will see how the pages flow and where you are going to want to adhere certain pages together.  I used my tape runner to do this.  I'm sure any adhesive that you like to use would work.  When you get done with this stage your mini book should look like this...
Next cut a strip of ribbon 18" long.  Wrap it around the back of the book making sure that the ends of the ribbon are even and glue the ribbon to the front and back pages of the book.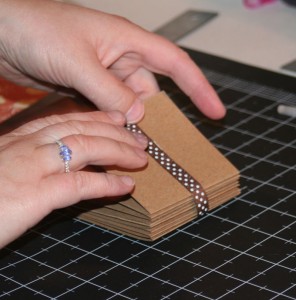 For the covers I used cardstock and just cut 3" x 3" squares and glued them on front and back.  Then I just embellished the front.
Now...here's another fun thing...I found this freebie on Heidi Swapp's blog.  I printed out the sheet and am cutting out the tags and using them in the book.  The 'Thankful For...' and the 'Home is Where We are One' are both from Heidi Swapp.  So...another thing for those of you who don't scrapbook and don't want to invest any money...or maybe are on the fence about this...Jeni...;D  Or even those of us who do...and are saving money for Christmas...or just trying to save money in general...or just like something for free...heck yeah!  I'm making this super easy! ;D  And it will look cute too...love Heidi Swapp stuff!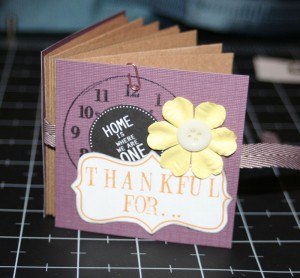 Tomorrow I'll show you what I did on the inside!
Happy Monday!  And I'll post the give-a-way later this morning!
Also so very excited for Stories In Hand to be starting!!!  Yay!!!  And if you are STILL dragging your feet on this one...just checked Jessica's blog...she has reopened the registration for this class until midnight Monday Nov 10th!
...
9:40am  So are you all ready to see the give-a-way?  Yay!  I'm so excited about it!  Corey was right...I should have kept it!  But no...I'm going to let one of you lucky ones out there get it!  Drum roll please....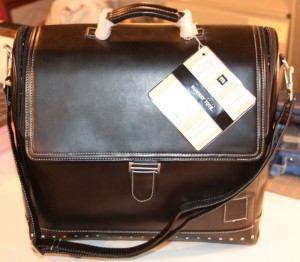 It's a Making Memories Runaway Tote!  Now see...didn't I tell you it was a good give-a-way!!!! ;D
In order to put your name in for this please leave a comment either about the mini book if you are going to make one and what you are going to do with it, ie a gift or for yourself...OR...comment on a Thanksgiving tradition that you might have...if you get together with certain friends every year or if you watch the Macy's Thanksgiving parade on tv or whatever you do!  I'll pick a random winner in a few days!  Good luck!