Yesterday was much cooler (well relatively to Colorado weather) so we decided to go hiking.  I decided to not take my camera and use Corey's point-and-shoot.  That was a mistake.  He didn't put the memory card back in it so I had room to take 2 pictures of our hike and that was it.  I was really mad.  Mostly at myself for trusting the photo aspect of our outing to someone else.  I never seem to learn this lesson, no matter how many times I do it.  So as I was getting angry with Corey, because of course I made it his fault, Laney says, "Well, then, let's not make any memories!"  I fell over with laughter.  And of course we had the BEST time hiking.  No fighting.  Just fun and laughter.  Maybe it was BECAUSE I forgot my camera.  Who knows.
Later in the day (and I was sure to bring my camera this time) we went to a celebration rally for the Colorado Olympians recently returned from the London Games.  Hometown Sweetheart Missy Franklin was there.  After watching the Olympics for two weeks pretty religiously around this house it was great fun to see some of these athletes in person!  Laney almost got Missy's autograph.  She handed her the paper but Missy handed it back to her as she was whisked away by security.  You can kinda see it at the end of this 9news video clip.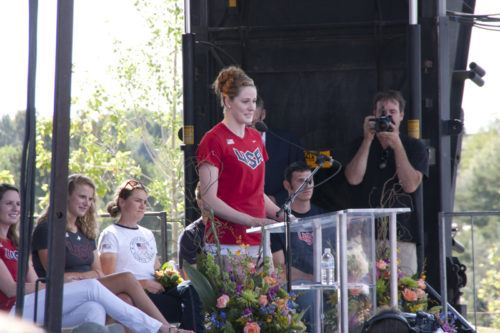 But I think the BEST part was that Corey interviewed Olympic Bronze Medalist Georgia Gould for his gig at Singletracks.  We got to sit in and listen while he was chatting with her.  She and her husband were extremely nice, down-to-earth people.  Here are the girls with her...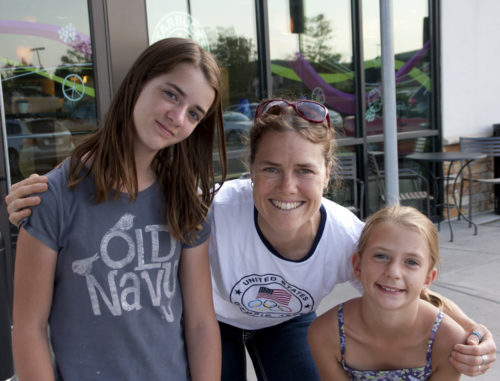 Let's not forget that this was the first week of school for the girls.  Like, it was really no big deal around here.  Except for maybe the dogs.  They were pretty depressed.  Look at Ava.  Doesn't she sooooo look like she's a Middle School-er now? ;D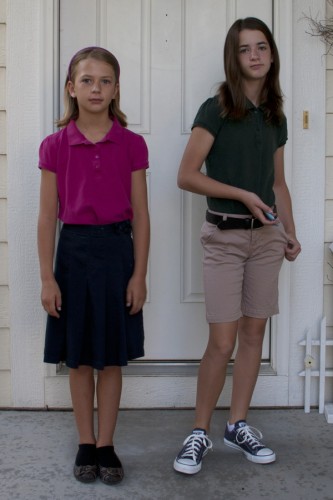 So how's that for "not making any memories"?  Heh.