Welcome to The Studio iNSD Blog Hop 2020!
Many of the designers at The Studio came together to create a wonderful collection for you.
All you have to do is follow the train to get all the parts.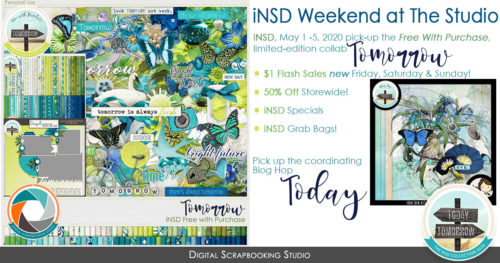 Be sure to scroll down to the bottom of the post to find out how you can pick up the matching, limited edition, Free with Purchase, Tomorrow on May 1 – 5, 2020 only!
Never give up. Today is hard, tomorrow will be better, the day after tomorrow will be sunshine. -adaption of Jack Ma quote
Today is hard. Living in social isolation is hard. But together, doing the things we love, keeping busy, scrapping our memories & loved ones, tomorrow will be better. And once this dark cloud lifts off us all, tomorrows will be pure sunshine, light & happiness once again.
New to blog hop's? It's easy, fun & free! Simply click every link in the hand-dandy list below, visit each of our participating Designers blogs or Facebooks, and pick up a free coordinating mini. That's it, it's that easy.
Here's my part:
You can either click on the image above or download this freebie
You can now find this mini kit in my shop here.
Please note this freebie is available here on my blog until May 12, 2020. After that you can find it in my shop.
Your next stop is Nibbles Skribbles.
If you get lost you can go back to the beginning here.
But wait there's more!
Stop by The Studio all iNSD weekend and save 50% or get our best deals of the year with daily $1.00 Flash Sales, Bundled Deals, Grab Bags & more! It's going to be one spectacular weekend filled with savings.
Even better? Get the stunning, limited-edition companion collab: Tomorrow free with any $20 purchase. Simply add it to your cart, the discount will apply automatically.
Enjoy your weekend and I hope you get everything on your wish lists!
-Jen