Remember how I said Laney was convinced that she could only ride one bike and how I told her that once she could ride a bike she could ride any bike?  Well.  We have been wanting Laney to "graduate" to Ava's old bike because of the larger wheels and the ease with which she will be able to do bike rides with us.  She has already been complaining of tired legs on these bike rides we've been going on with her.  Ava's old bike will fit Laney.  She's so darn tall!!! ;D
This morning on a walk with Baxter, Laney said that one of the neighborhood girls let her take a turn on her bike.  I was surprised at this and used it as a springboard for...yes, you guessed it... "Laney.  Are you telling me that you can ride someone else's bike?"
"Yes."
"Even though you are convinced that you can only ride your bike?"
"Yeeesss."  And she said this rather sheepishly.
So I asked her if she would give Ava's old bike a try.  "Okaaaaaaaaaay."
Guess what happened...;D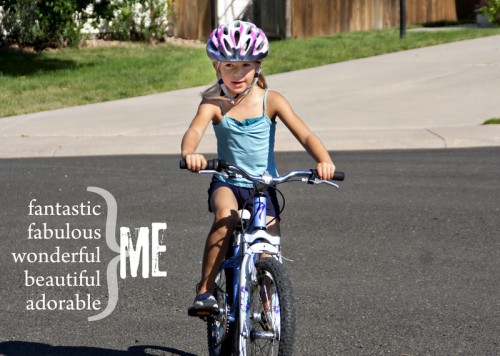 It also didn't take her long to figure out the hand brakes...which I was a little nervous about.  And she was just so amazed at how much easier it was to ride this bike compared to her other one...which really was too small for her.  So in a week's time she went from learning to ride at all to graduating to what we call around here "a real bike".  One with gears and everything.  We are planning a family ride tomorrow night.  I think she'll be amazed at how far she can go with a lot less effort. ;D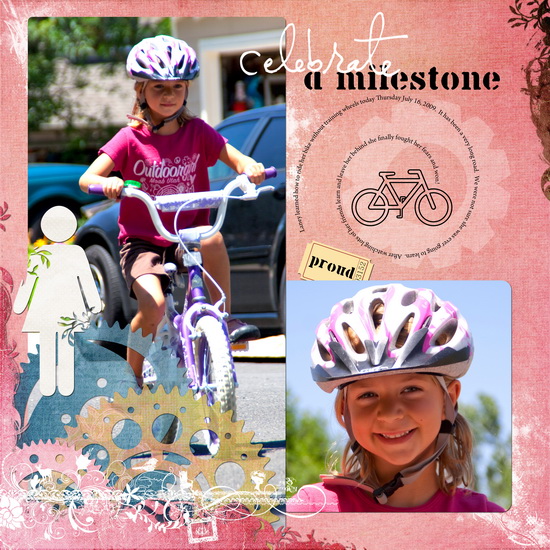 layout credits
template, tag + grunge brush Jen Maddocks Designs
paper tequila sorbet, essential bases, antiquities Lynn Grievenson
celebrate + brush House of 3