Christmas shopping is done man!  1. Cause the budget says so.  and 2. Cause I can't take the crowds...and it's not even Thanksgiving or Black Friday yet!  All I have to do is take Ava and have her get something for Laney...and I already know which "direction" to point her.  I must say that making lists this year proved much more of a success than I ever thought it was going to be!!
I lit up my Mistletoe Yankee Candle just now.  It smells like a Christmas tree in here.  I was just on last.fm forming a Christmas play list...getting songs that I don't have on cd.  Totally in the mood for Christmas now.  Just cleaned up the kitchen.  I think maybe some baking is in order! ;D
Some odds and ends thoughts for Thanksgiving.  As far as photo taking...because I was requested to take my camera to Thanksgiving...I'm loving my new camera...as a scrapper...and as I explore the world of photography in general I leave you with some thoughts on photo taking this Thanksgiving...
1.  Take a photo of the turkey in the oven.
2.  Take a photo of the turkey being carved.
3.  Take photos of people watching tv...and the tv itself...like if you watch football or the Macy's parade...take a photo of the tv when it's on that event.
4.  Take a photo of a plate of food.
5.  Take a photo of the place setting or the table or the decorations on the table.
6.  If you are the one who is behind the scenes cooking...make sure someone gets a photo of you doing whatever it is you do at Thanksgiving.
7.  Take a photo of your cooking masterpiece.  Two years ago I made home made gravy for the very first time...from the turkey drippings.  I was so very proud of myself!  My friend took a photo of me.  She said, "Well you just keep going on about it.  We should take a photo!"  I'm glad she did!
8.  Take LOTS of photos!  You can always delete later! ;D
9.  Take a photo of something you never have before.
And then...share with me what you took photos of!!! ;D  I'd love to see!
I leave you with this photo taken two years ago at Thanksgiving...with my trusty Kodak Easy Share C875.  Have a wonderful Thanksgiving.  I'll be back in a few days!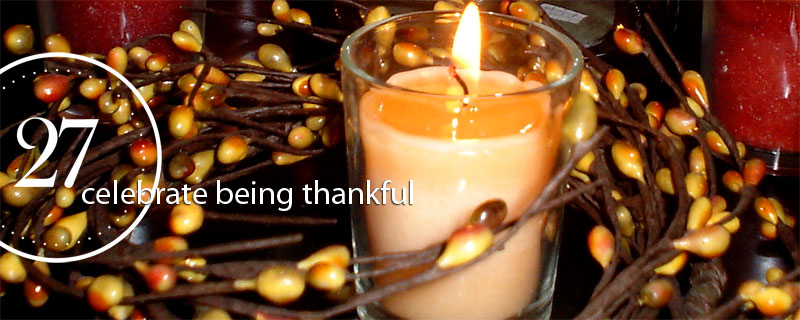 Photo Jen Maddocks
Ali Edwards 31 Days Circle Accents
Font Myriad Pro