We are all very sick.  We didn't even go to church today.  That felt horrible.
Since we have kids there are still some things that we still do...even while on our "death beds".
Like our annual egg hunt.
I didn't want to.  At all.  But I was listening to Laney in her sick whiny voice saying, "I want to do the egg hunt that we do EVERY year!"  At least we have traditions.
It was cold, cloudy and we were all hacking up our lungs.  But we went out and did it by golly! ;D
All that activity landed me on the couch for the rest of the day...so pathetic.  Thank goodness for laptops.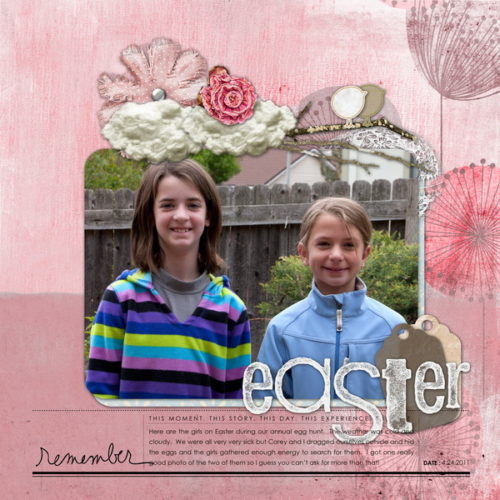 credits: flowers, branches, clouds, birds Digital Design Essentials
alpha, egg Paula Kesselring
remember brush Ali Edwards
tags, matte paper Jen Maddocks Designs
background paper Fiddlette Designs (altered)