Getting back into the swing of things from my weekend took a little longer than I thought.  I felt a little under the weather the minute I got home on Saturday night.  Stayed home from church on Sunday.  Tried to get caught up on Monday.  I guess I'll be running behind all week at this rate.  See...I started this post at 2pm...it's now after 7pm when I've finally gotten back to finishing it.
This week's give-a-way is a Martha Stewart Christmas paper pack.  Leave a comment about whether or not you do Christmas wish lists or Santa lists with your kids.  If you don't have kids or kids that are the right age for this then leave a comment on whether or not you have all your Christmas shopping done.
A little crafty thing...I got a package of Martha Stewart cookie boxes.
I'm not going to use them for that.  I'm going to use them as house luminaries.  This is what I'm doing...
There are 6 in the box.  I've used three.  The first one I just cut the bottom out of it.  The second I just scored and cut it below the first window.  The third one I did the same just below the third window.  This is so I could have different sized houses to make it look interesting.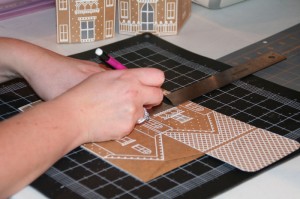 I am going to put lights inside them rather than candles I think.  I didn't make any kind of ventilation and am concerned about burning.  ;D  To secure the roofs really well I used brads.
I'm going to include the other three with the paper pack in the give-a-way.  You can use them however you choose!