I love making family traditions.  Last year when we went to Anderson Farms Ava suggested we go there ever year.  So this year when it started getting "fall-ish" around here she and her brilliant memory started asking about it...so I put it on the calendar for the first weekend in October.  Not only do I like making family traditions but I love it that we'd been before, were familiar with the place, knew what we wanted to do, AND the girls were a year older...therefore able to go and do a lot more! ;D  So the only person holding up the works was ME still getting over this nasty flu bug that just won't seem to let me get back to 100%.  I mean I'm not really sick per se.  Just can't take a full breath and don't have all my strength.  Plus this was my first big outing since being sick.  So I was pulling up the rear.  But the weather was FANTASTIC...we could not have asked for a better day!  In fact we all got a little sun burn.  Why do I never remember that about here??? ;D
We stayed all day.  A far cry from last year.  Ava's favorite part: the fossils and feeding the goats.  Laney's favorite part: feeding the cows on the hay ride and searching for jewels.  The list of things that we did will be in the form of photos.  Here goes!
There were lots of baby goats.  That was new from last year.  And of course baby animals are so adorable.  Staff were inside the pen picking them up so that we could pet them but they were coming up to the fence to see people regardless.  Goats are pretty curios...for handouts that is! ;D
Feeding the cows on the hayride.  They had very long tongues...as you can see...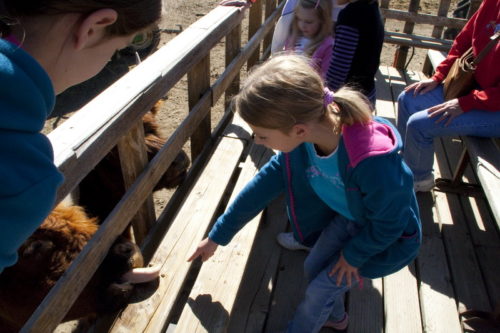 The hayride took us to the pumpkin patch (which we did not do last year).  There's nothing like going to the pumpkin patch for pumpkins.  I haven't gotten pumpkins from the farm since I was in Maine.
After lunch it was off to the corn maze.  This year we got the first 7 markers.  Last year we only found one! ;D  These mazes are very hard!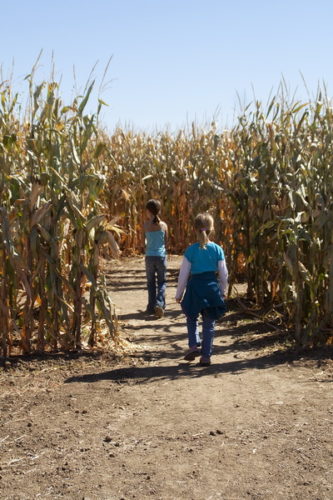 Probably the best part of the whole day was a new thing they added this year which was Gem Stone Mining.  Laney found an arrowhead in her bag o' dirt. ;D  That was probably the best find of both bags!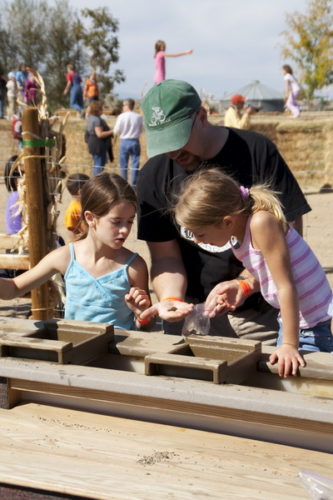 Then there was gourd launching. ;D
If all else fails, get down on your knees and turn around...of course this method was thought up by Ava.
And lastly...feeding the goats.  It was so funny to watch Laney because she said it "felt weird" when they were eating out of her hand. ;D
I'm so very thankful we have something like this near us to go to.  What kinds of things do you do in the Fall?