I wanted to use vinyl with my Cricut Expressions and make some decorations for my home.  When I went to look for information about it online there wasn't much in the way of help.  The directions with the packages of vinyl you can buy for your Cricut...well let's say they leave something to be desired.  The directions say to go to the Cricut website for a video tutorial on how to work with vinyl.  I'll be darned if I could find it.  One night a couple of months ago I stayed up late for some reason and there was this infomercial about the Cricut Expressions.  While I am not advocating for this infomercial in any way there was a section on working with vinyl.  I'm glad I watched it because it really helped!  I went looking for the infomercial online and found it but it doesn't have the part that I saw with the demonstration so I will not be linking it.  With all this frustration and unknowns...and knowing my friend Jill had questions when she was doing vinyl I figured I'd do a post about what I did and how I did it.  You can bet that if there is a suggestion made here it is cause I did it wrong!  LOL!
1. Make sure your vinyl is flat before putting it on your cutting mat.  I did NOT do this the first time I cut shapes and everything was curling up off the mat.  It was a nightmare!!!  I just put some heavy objects on each corner of the vinyl.  It didn't take all that long for it to flatten...or at least not be so curly it would come up off the mat!!!
2.  Roll your vinyl in the opposite direction that it came in the package.  You want to do this because...when you place it at the top of your mat and line it up all you have to do is roll it out and voila it is all lined up and flat ready to load!  Again...this was something I did wrong the first time I tried it.  Try applying a curled up piece of vinyl and get it all down and even...good luck! ;D
3.  Load your mat and cut your image.  I left my settings on the Cricut to medium speed and medium pressure and I had my blade set on 6.  This could be that it is getting dull...lol...but if you are in doubt AT ALL just do a tiny shape instead of your entire image just to make sure it cuts correctly.  Don't want to be wasting entire sheets of vinyl!  ;D
4.  The easiest way I've found for applying vinyl is the transfer tape that you can buy the same place you bought your vinyl.  I peeled up the excess vinyl and just left the image on the mat.  This way is the easiest for getting it on the transfer tape cause you just remove it from one sticky surface to another.  Also if your letters are placed just how you want them on the mat exactly how you want it to go on the wall it is easier to leave them on the mat rather than pulling up and replacing.  Too much room for error and plus it just takes too darn long...again something I did wrong before!!!  Below is a photo of my word art on my cutting mat and the transfer tape over it...
5.  Rub the transfer tape on the image.  I did it with my finger.  There is a popsicle stick in the package with the vinyl.  Anything like that would work.
6.  Peel the transfer tape from the mat pulling up the letters but leaving the backing on the mat...
6.  Place your letters or image on the wall.  You can pull it up and restick it if it isn't lined up just right as long as you don't rub it on the wall too hard.  Once it is where you want rub it on to the wall so that the letters will stick when you pull the transfer tape away.  Again I just used my finger.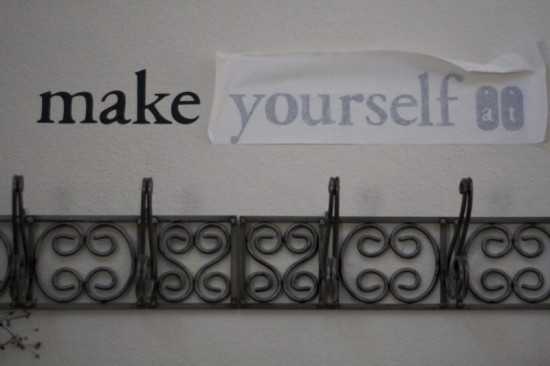 7.  Pull back the transfer tape at about a 45° angle.
If some of the letters come up as you are peeling the tape off just push that part back down and rub again.  Here's a photo of it doing it to me...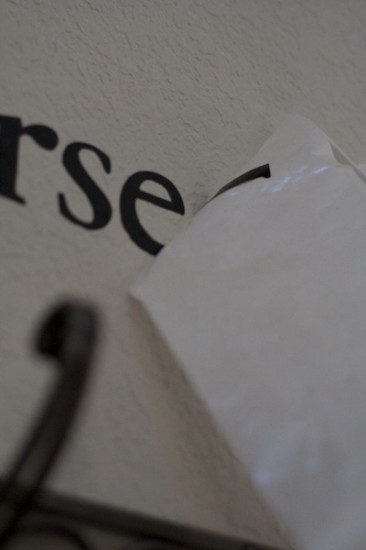 Finished Product...oh and I'm not done with the wall decorations...just the vinyl art...just to be clear. ;D
This project took me about 50 minutes and that included taking photos for this blog post.  So once you get the hang of it...it really is a simple project that can make your home look so lovely! ;D
Any questions or comments please feel free!
Cricut cartridges used: Base Camp, Home Accents