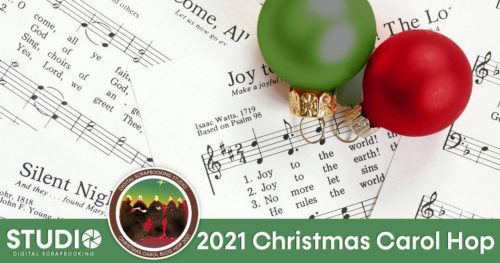 Welcome to the Studio's Annual Christmas Carol Blog Hop. Every year the Studio Designer's gather together to "Sing Christmas Carols" to all of our members, customers, fans & friends. Put on your dancing shoes & singing voices and come caroling with us!
It's a way for us all to say Merry Christmas and a big Thank You for being so supportive of our little store. Each participating Designer has chosen a special Christmas Carol just for you and designed an adorable freebie around it.
Every year The Studio designers create mini kits for you in the style of the Christmas carol that they chose.

This year I chose "Cold December Night" by Micheal Buble.
You can download this freebie >>>>>>>>>>HERE<<<<<<<<<<

This mini kit will be available for free December 15, 2021 through Jan 3, 2022. After that time you can find this mini kit in my shop.
Your next stop is Lisa Rosa Designs.
If you get lost along the way you can go to The Studio's blog here.
Have a wonderful Christmas & and Happy New Year!

-Jen