I'm going thru all my layouts.  I want to print them...you know, rather than have them sit on my computer for the rest of their lives...;D  Either just as layouts or as a photobook.  I can't decide.  But either way I would like to have everything done in 2009 from January till now.  Especially if I'm going to do a photobook.  What's the point, I say, to spend all that money if it doesn't have some kind of logical order? ;D  So in doing so I have gone thru and looked over all my layouts.  I've done quite a few.  Several observations.
1.  I love digital scrapbooking.  I mean really, really!!!!
2.  Looking over what I've accomplished made me excited and motivated about the future!
3.  Project 365 was a great idea and got me in the habit of scrapbooking weekly, heck...daily!!!! and taking photos and taking my camera around with me all the time.  So even tho I abandoned it I'm okay with that. ;D
I'm trying to fill in the events that I didn't scrap yet.  So here are two layouts that I did this weekend to help me with my goal of getting everything from this year till now scrapped.
paper Eternal JMDesigns
template Designer Digitals Everyday Inspiration Layered Template Katie Pertiet
stamp words Mary Ann Wise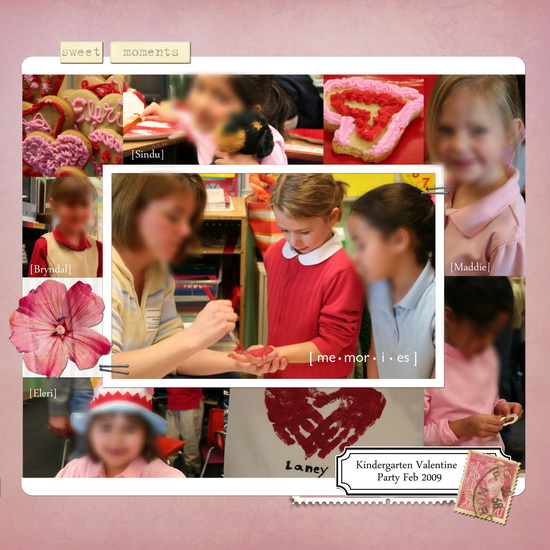 paper Marvelous JMDesigns
Template Everyday Inspiration Challenge 10-26-08 Designer Digitals Anna Aspnes (altered)
journaling freebie Designer Digitals Andrea Victoria
Postage Stamp Frames No2 Curled-n-Flat Katie Pertiet
stamp French Summer Lynn Grievenson
Digital Poetry Katie Pertiet
flower Enamored Kelly Thompson
Template Everyday Inspiration Challenge 10-26-08 Designer Digitals Anna Aspnes (altered)
Since I enjoyed the concept so much (remember my favorite movie layout from this post?) I decided to do another Favorite Thing Challenge.  I was thinking since it is so hard for most of us...myself included...to scrap about myself...scrapping about my favorite things seems a pretty good way to scrap about myself.  Then wouldn't it be fun to put all those pages together in a book about yourself?  If not for yourself but for your kids or something?
So my favorite food challenge page...
paper Neutrals, Damask JMDesigns
12x12 Page Hipster Plume FotoBlenz No.2 Anna Aspnes
brush set House of 3
tag Thank Ya Kindy Jessica Sprague
File Cards No1 Curled-n-Flat Katie Pertiet
So while I'm thinking of it...I've been listening to Pandora.  I guess cause I found an app for it for my phone.  Love it!  Found songs that I haven't heard in years!
Having issues with ACDSee Pro.  So frustrating.  Corey found me a test beta version of Pro 3 that they have released.  Installed it yesterday.  Seems to be working well so far.  I was really struggling because I was trying all other kinds of image organizing software and nothing was really working for me.  I just like ACDSee so well and seems like they are doing nothing to fix the older version...the one I have is having compatibility problems with Vista and Windows 7.  I guess they are putting all their efforts into the newer version.  I guess that makes sense.  Sometimes I hate technology.
Caught a cold from Ava.  Gotta love the kiddos going back to school.  Even something small like a cold slows me down.  I hate being sick. 🙁
The girls have "moved in together" because I'm painting Ava's room.  Only things have delayed it.  The girls have been fighting more because of sharing a room.  I've GOT to finish painting in there THIS WEEK and move Ava back in there!!!!!!!!!!!! ;D
How was your weekend???