This weekend we went camping at Cherry Creek State Park.  It is about 20 minutes from the house.  And this park is actually in the Denver metro area.  You wouldn't equate camping in the city with camping, at least I don't. But for a group camping trip it was fantastic.  This was the maiden voyage of our camper.  I'm happy to report that the camper was a fantastic purchase (despite the age...yes it is a little old...but we don't care about stuff like that as long as it works!) and we got to test it out in the rain.  We had a pretty good thunderstorm the first night we were there and we stayed nice and dry inside.  There was one leak around a bolt in the roof and Corey can fix it.  Fortunately it was nothing major.  I was so grateful to not be in a tent anymore, I can't even tell you!  I slept much better.  Just the overall comfort level was so much better.
I was feeling a bit poorly over the weekend so I didn't get as many photos of things as I would have liked.  I didn't get much at the campsite and campground...ok, so I didn't get any of us at the campground...yes I was feeling that badly.  I can tell you it was your basic campground.  We had a pavilion where we all gathered for meals. There was a large circle road around it where everyone could park/put up their tents/campers and grass in the center of that.  All weekend long all the kids rode their bikes and scooters around and around the big circle.  It was fun to watch them.
I did get a bunch of photos of us going to the beach and going out on the boat.  I was very hot this weekend.  So glad to have water to cool us off!
Some of the people we went camping with had power boats and were giving us rides.  Some were skiing.  Ava and Corey chose tubing.  ;D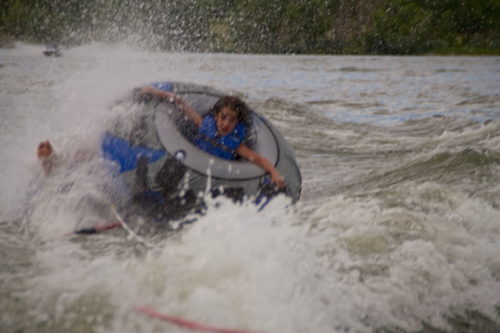 The girls LOVED being on the boat and out in the water.  LOVED IT!!!!!!!!!!