Bricolage Tutorial 101a
Reminder: what is Bricolage?
bri•co•lage ˌbrēkōˈläZH,ˌbrikə-/ noun: bricolage; plural noun: bricolage; plural noun:bricolages (in art or literature) construction or creation from a diverse range of available things that happen to be on hand, something constructed or created from a diverse range of available things
This week's new release is called Bricolage 101.  Why?  Because I was having a hard time coming up with a kit at all.  Theme? Yeah…not coming together, really.  So I at least picked a color palette and then set to work picking out random images and items that interested me or that I was working on that I had gotten stuck on or that didn't really seem to be "going" with anything else and just plopped them into this folder.  Did they end up being so random?  Maybe.  Maybe not.  I've got bird and feather images.  Trees, and forest images.  But I seem to be drawn to those anyway.
In any case I didn't feel strongly about any direction this kit took and so I decided to further build upon this Bricolage concept and name this kit "Bricolage 101".  That said I'd like to share with you another layout I did with this kit and break it down for you.
As I was working on the kit I decided to make a layout using only a few things I had made so far, just to see…was there enough here to keep going with this kit?  Was I on the right track?  Was this possible with just a few elements?
I used the following items from the kit:

And items from the free mini kit:
Here is the layout: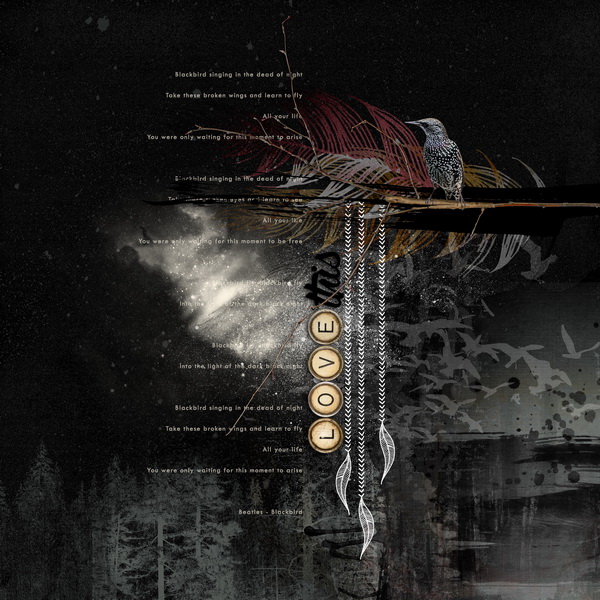 Layout breakdown:
1.    I pulled in the background image.  I used this one because it was my most favorite one when I created the pack.  I LOVE dark papers!!!!
2.    I used the bird next.  I felt that was the strongest image in the kit at the time of creation.
3.    I pulled in the branch to anchor the bird to the page so he wasn't just floating there.
4.    I put the brush image and feathers behind the bird.  I played with the blending mode of the feathers and duplicated the image a couple of times.  I've even got it faintly appearing in the lower right corner.
5.    I added the hanging leaves and the stars.
6.    Then I added the birds in the background.  I took some time with this.  I moved them around a bit on the page for just the right place and I changed the blend mode for maximum effect.
7.    Last I added the word art and the lyrics from the song Blackbird by the Beatles.
I did another layout using the vintage girl and one of the word arts as the focal images…

My CT gal Tinkelbel took one of the brush images and used that as her focal point…


Let me know how this kit turns out for you!!
-Jen