It's coming up on my blogoversary.  1 year...I cannot believe it!!!  In celebration of this milestone I would like to give away something.  This does not come without strings.  But these are GOOD STRINGS!!! I would like to see some of my designs in action...from someone other than me!  The challenge is design a page (this page can be anything...I'm not limiting that) using any one of my designs...templates, paper, frames, or brushes...in your layout and post them online someplace, your blog, or if you don't have a blog send 'em to me and I'll post 'em here...and add the link in the comments of this post.  Those of you who do this will be thrown in the hat for one of three prizes...a $20 gift certificate to Designer Digitals and then I'll also give two $10 gift certificates to Designer Digitals.  Sooooo...three chances!!!  Yay!!!  Deadline is...May 13th.  I'll draw winners on that day.  GOOD LUCK!!!
You can find all of my designs on one handy page here.  I also have a new link on my sidebar entitled JMDesigns.
I have designed a new paper pack...you can download it for FREE!  Bonus!  Even more for you to work with!  Here it is...Blew Sky.
And finally...here's a page I designed...with a little inspiration from this post.  10 simple pleasures in my life.  Oh I have more...but these just came to mind.  What are yours?  Scrap them today! ;D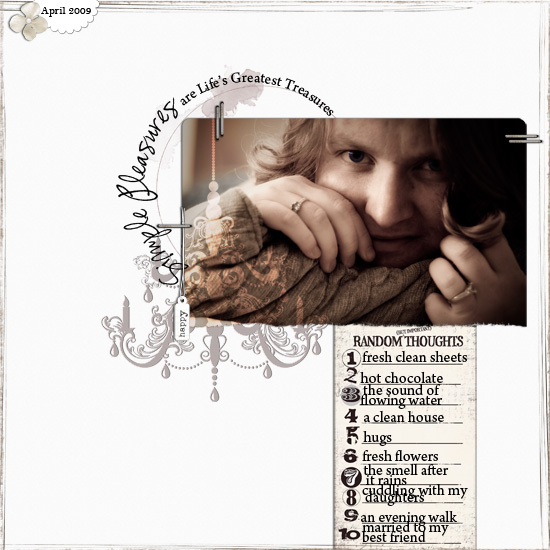 Jessica Sprague home Away from Home Punchable Tag
Anna Aspnes Something Springy Edge Overlay, Circle Plus Stain
Jen Wilson Designs Handy Dandy Lists
Anna Aspnes Chandelierious No.1 Brush Set
Katie Pertiet Lil Bits Tags {Jewelry Tags}
Katie Pertiet Letter Box Love Paper Pack + Embellishments
Fonts: Arno Pro, Susie's Hand